A Lifetime's Experience, Put Into Words
Hillie was often asked to record her advice and her conclusions about creating and maintaining personal relationships. The result is three books (so far!) distilling much that she has learnt. Each acts as a guide to achieving happiness and harmony with partners. They can be bought in store, online or direct from this website.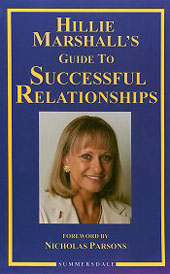 Hillie guides people of all ages through the complexities of human relationships
"She's a natural, a real natural. People do not just see Hillie as the "lady in charge" but as a friend and confidante" – The Independent
"Before reading this book my life was a mess – seriously though, Hillie Marshall who I know well and respect, is knowledgeable and well worth listening to. This book is hard hitting without pulling any punches." – Leslie Crowther
"Indispensable" – Frank Skinner
Foreward by Nicholas Parsons
Published by Summersdale
ISBN No: 1 873475 330
Price £6.99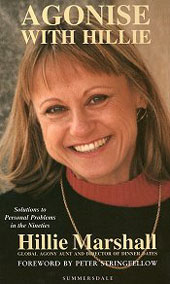 A compilation of questions that Hillie has been asked – and her answers – taken from personal contact, letters, media columns, but mostly from the internet.
"Hillie writes with the sensitivity and perception of someone who truly understands the nature of the worries and troubles that we have all experienced at different periods of our lives. She deals with these issues in a down to earth, common sense and matter of fact way which is very reassuring for those that seek her advice."
Dr Edward Stonehill MD FRCPsych – Consultant Psychiatrist
Charter Nightingale Hospital & Harley Street London
Foreword by Peter Stringfellow
Published by Summersdale
ISBN No: 1 873475 80 2
Price £6.99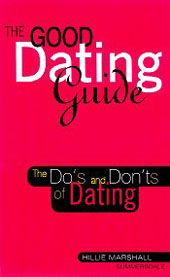 Hillie reveals the unwritten rules of dating, and shows how to form a successful relationship, guiding you through the complexities of the dating game with a blend of practical advice, honesty and humour.
The Good Dating Guide shows you how to
Meet the challenge of getting a date
Prepare yourself for the first date
Make the most of any date
Get your relationship off the ground … and maintain the momentum
Foreword by Maggie Goodman, Home and Life Magazine
Published by Summersdale
ISBN NO 1 84024 017 2
Price £7.99